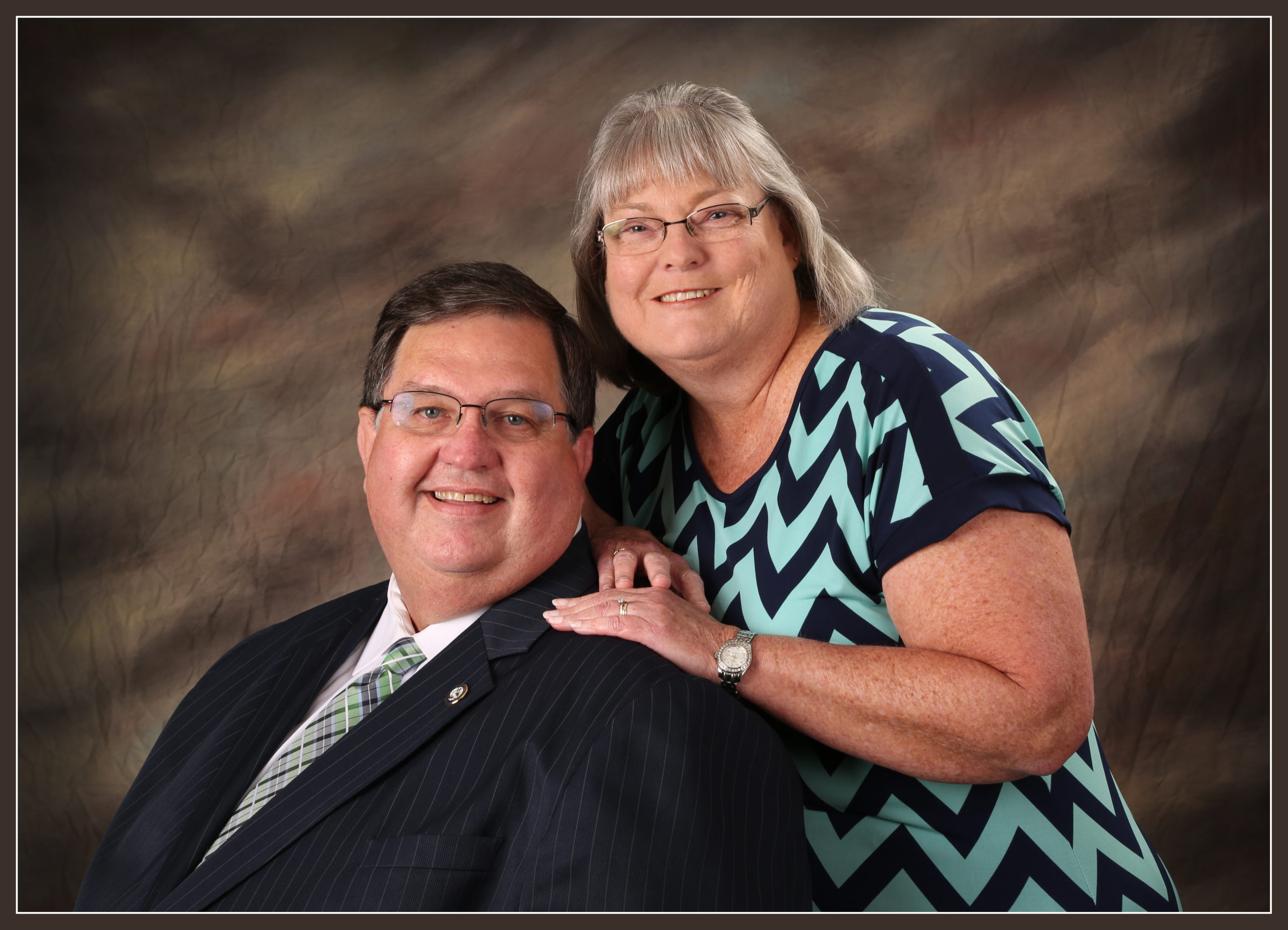 Pastor & President; School Secretary
Dr. Dewayne Jowers & Mrs. Lisa Jowers
Dewayne Jowers was born to Tom and Gwen Jowers in Jacksonville, Florida.  He graduated from Trinity Christian Academy.  He received a Doctor of Ministry from Christ's College and entered the Pastorate after being ordained in 1987.
He was called to Grace Baptist Church in March of 1995.  He displays the heart and love of a Pastor/Shepherd.  He has led Grace Baptist Church into active and faithful participation in supporting missionaries and missions projects around the world.
He was invited to serve on the Board of Directors of the Rock of Ages Ministries by Dr. Ron Gearis and has worked alongside Dr. Charles Keen and First Bible International in getting the Bible to people groups who have never had one.
Pastor Jowers was married to Lisa O'Steen, daughter of Milo and Colleen O'Steen, in 1982.  They have three grown sons: Tim, Christopher, and Jonathan, and eight grandchildren.
Pastor Jowers is a lover of college football and an avid Georgia Bulldog fan.
Principal
Mrs. Barber holds a bachelor's degree in Business Accounting from the University of Phoenix.  While working as an accountant, she began to feel the call to teach and went back to college to obtain her Florida Teaching  certificate.  In 2012 she became certified to teach Pre-K through 6th  grades.
Mrs. Barber began her career in education at Grace Christian Academy in 2012. Over the years, she has taught each grade from VPK through the 4th Grade and now serves as the Academy Principal. She is an educator who enjoys making learning fun through creative activities and projects.  She has a passion for teaching reading and strives to encourage a love of reading in all students.   As administrator, she worked to obtain accreditation for the school, and began the VPK program.  It is her desire to lead GCA in a Godly direction and to partner with families, staff, and students to ensure that each student at GCA excels both academically and spiritually.
Mrs. Barber makes herself available to help the GCA family and she goes above and beyond to meet the needs of the Academy. Her love for the  ministry of GCA is evident in the work that she does leading the academy.
Mrs. Barber is the proud parent of two graduates from GCA. In her free time, she enjoys serving at Church, spending time with friends and family, boating, reading, and traveling.
Lead Teacher - VPK and Kindergarten
Mrs. Casey Dawson is the lead teacher in our Voluntary Pre-Kindergarten and Kindergarten classroom. She is a proud graduate of Grace Christian Academy, and she holds a VPK Staff credential from the Childcare Education Institute. Mrs. Dawson enjoys teaching children the foundation of education. She is a creative teacher who makes learning fun and exciting for her students.
Mrs. Dawson is a faithful member of Grace Baptist Church and has served in many areas including Pastor's Secretary, VBS worker, nursery worker, and Sunday School teacher.
Mrs. Dawson is a proud parent of two beautiful children, one if whom is a current GCA student. She enjoys crafting, traveling, and spending time with family.
Assistant Teacher - VPK and Kindergarten
Mrs. Kristine Marsh began her teaching career at Grace Christian Academy in 2007. Mrs. Marsh served as a full-time volunteer from 2007 – 2014. During her time as a volunteer, she was a middle school teacher, a substitute teacher, and a childcare provider. Mrs. Marsh has proven to be a Godly example and a blessing in any capacity. In 2014 the Lord led Mrs. Marsh to be a full-time Nanny. In 2021 she was welcomed back to Grace as a VPK Teacher. In addition to her experience at Grace, she homeschooled her own two children for seven years, she has been a nanny to many children, she has taught Sunday School for 28 years and she and her husband have taught Junior Church for 25 years. Mrs. Marsh has a passion for sharing her love of reading and she enjoys all things arts and crafts. She is a proud Mother to two successful GCA graduates.
Teacher - 1st and 2nd Grade
Teacher's Aide / Aftercare
Miss Victoria Weber has joined the GCA staff as a teacher's aide and after-care teacher. She is a proud former student of Grace Christian Academy and she does a wonderful job helping teachers and staff throughout the school day. Miss Weber has recently returned to Baldwin after spending the past few years on deputation then in  Mongolia, where her family serves as missionaries to the people of Mongolia. Miss Weber enjoys helping and teaching children. Her love of children is evident in the way she communicates with children and the way they flock to her. Miss Weber is a faithful member of Grace Baptist Church and is always ready and willing to serve in any capacity she can. We are pleased
to have her on our staff.
Teacher - 3rd and 4th Grade
Mrs. Waddell began with Grace Christian Academy in 2017 as a volunteer and a substitute teacher.  She then joined the academy staff full time.  Mrs. Waddell has excelled as a Math teacher, guiding students to grasp the various concepts of Mathematics.  She has taken every opportunity to grow as a teacher by pursuing training opportunities through Pensacola Christian College's Abeka Teacher Training Program.  Mrs. Waddell enjoys building character and encouraging spiritual growth in all of the students she teaches.  Mrs. Waddell is also the proud parent of two GCA students.
5th-6th Grades Teacher
Picture and Bio coming soon
Teacher - 7th, 8th and 9th Grade
Mr. Dawson holds a Bachelor's Degree in church ministries with an assistant pastoral focus from Trinity Baptist College, which he received in 2016. He has served in Grace Baptist Church ministries since 2013 in the areas of children's and youth Sunday school, children's church, Vacation Bible School, youth pastor, and music director. Most recently, he has taught at GCA, since 2016, serving as a preacher, athletic director, and coach.  He has a passion for Bible, English, and History.
Teacher - 10th, 11th and 12th Grade
Miss Shank holds bachelor's degrees in Physics from Jacksonville University and a Civil Engineering degree from Georgia Institute of Technology.  While serving on active duty in the Navy's Civil Engineer Corps, she also earned a master's degree in Environmental Engineering from the University of Florida.  She left active duty in the military to teach high school physics and math while completing twenty years of military service in the reserves.  She has taught internationally for over fifteen years in the Arabian Peninsula and is excited to be teaching in her home state of Florida at Grace Christian Academy. She enjoys helping students learn and encouraging them to love the Lord with all their heart, soul, and mind.  During her free time, she enjoys DIY projects and gardening.